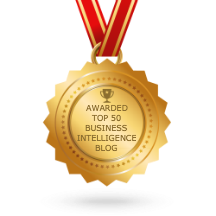 BI Jobs is a specialist job board for the Business Intelligence & Analytics community - actively managed by staffing specialists with a background in BI recruitment.
We are now proud to announce that the BI Jobs Latest News Blog has been recognised by feedspot as one of the Top 50 BI Blogs on the Internet. You can subscribe to our Blog here.
We advertise Business Intelligence, Big Data Analytics, Data Science and Data Warehousing jobs from the UK's leading BI Vendors, Consultancies, End-user Employers and specialist Recruitment Agencies. We curate the widest selection of BI Jobs available, and ensure that only BI jobs are advertised, creating a genuine "one-stop shop" when searching for your next BI role or BI employee.
We know that the best BI candidates want to control where their CV goes and who can access it - and this is where BI JOBS + scores ahead of the rest. Candidates love us because they can keep full control over their CV and who can access it. Simply choose to make your CV discoverable, fully hidden, or choose which agencies and employers you want to restrict access to - by taking advantage of our unique advertiser filter, you can rest secure in the knowledge that your CV will not be discoverable by your employer.
Clients love us because we offer applications from the most sought-after candidates in the sector, active candidates who are keen to keep control of their job application process and maintain the integrity of their CV, whilst applying to the best selected opportunities in the sector. We also offer our unique "Managed Vacancy" service which combines the advantages of top job board advertising, professional writing of your job advert, and proactive job sharing of your role across selected social media.
With our dedicated BI focus, free embedded social share buttons and wide social distribution of our advertised roles, advertisers can be sure that their vacancies will reach the widest network of both active and passive BI Jobseekers.
Read more about our advertising options here.
BI Jobs was founded in 2015 by Brian Stalley, a recruiter with over 10 years experience in the sector. With the intention of developing the most authoritative and trusted BI specific job platform, we are proud to support the BI & Analytics Industry in the UK, and offer preferential advertising rates for BI Vendors & Consultancies. We also support the creation of entry-level IT jobs in the UK and offer free advertising of Entry Level BI roles & Apprenticeships.
Read more about our advertising options here.